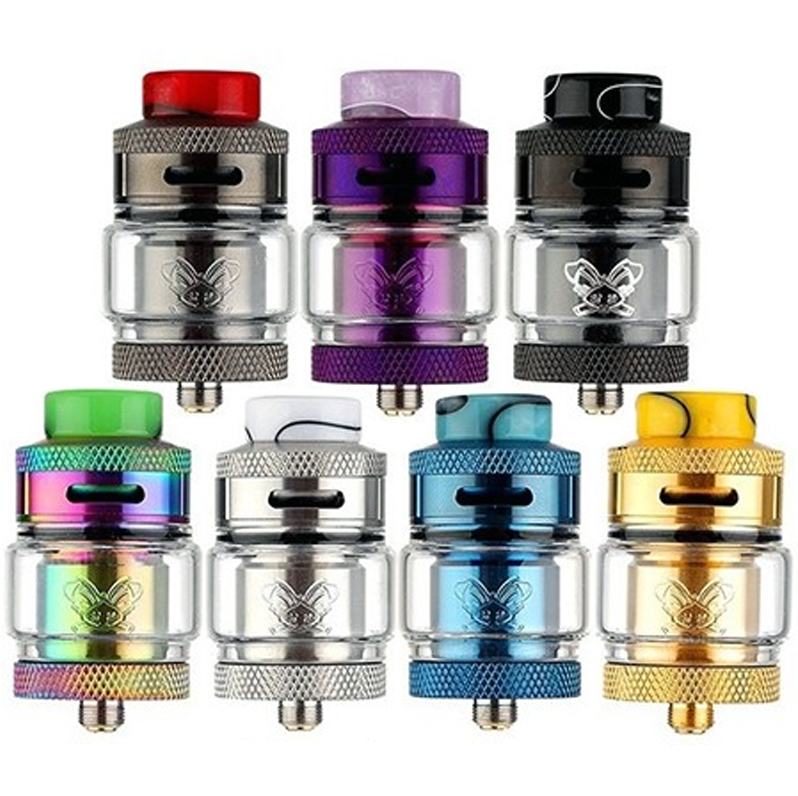 The HellVape Dead Rabbit 25mm RTA is the resulting brainchild between HellVape and Vapin' Heathen, presenting an impressive expandable juice capacity, a raised four-post build deck, and a top side adjustable airflow ring. The HellVape Dead Rabbit RTA utilizes a 4.5mL bubble glass to expand the standard 2.0mL eJuice capacity for longer vape sessions. The build deck is slightly reiterated from the previous Dead Rabbit atomizers, keeping the raised build deck to allow for extending coil leads to be snipped without painstaking measuring. Built for single or dual coil configurations, the Dead Rabbit RTA build deck has four posts with wide terminals to easily accept coils of any size, configuration, or thickness. The inner chamber has a funneled cap to concentrate and force the flavor from the coils to wash over the tastebuds. The top side airflow ring channels airflow from the top and vents it into the inner coil chamber to create an environment conducive to flavor and vapor.
Hell Vape Dead Rabbit 25mm RTA Features:

Collaboration with Vapin' Heathen
25mm Diameter
2.0mL Standard Juice Capacity
Increased 4.5mL Bubble Glass Juice Capacity
Superior Stainless Steel Construction
Pyrex Glass Reinforcement
Raised Four-Post Build Deck Design
Spaced Under Post for Coil Lead and Wire Cutters - No Measurement Needed
Gold-Plated Positive Posts
Side Secured via Flathead Screws
Single or Dual Coil Configuration
Dual Top Side Airflow Redirects Into Inner Coil Chamber
Knurled and Threaded Top Fill System
810 Resin Widebore Drip Tip
510 Drip Tip Adapter
510 Connection
Available in Gunmetal, Purple, Black, Silver, Blue, Gold, Rainbow
Includes:

1 Dead Rabbit RTA
1 810 Resin Drip Tip
1 510 SS Drip Tip Adapter
1 Spare Glass
1 Spare Parts Bag
__________________________________________
Ready Stocks
Shipping everyday except for Sunday and Public Holidays. Usually reach in 1-5 working days depends location.
Items are all READY STOCK.