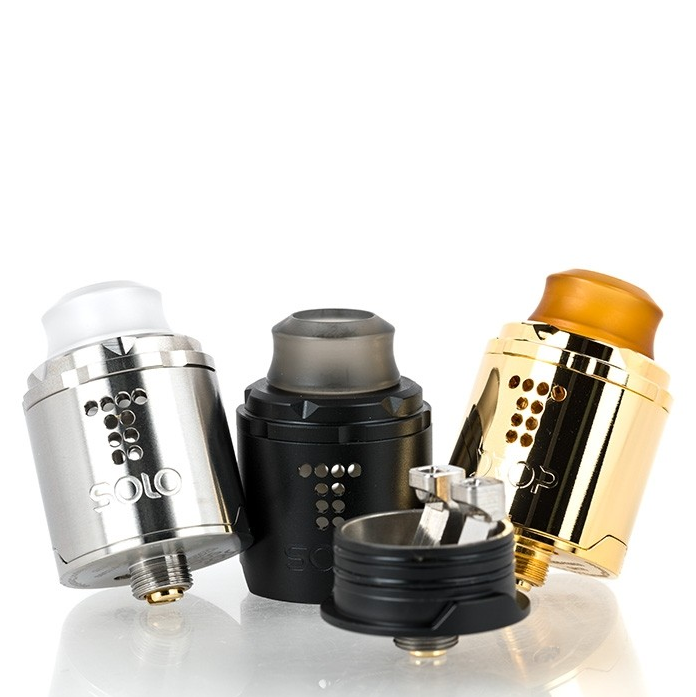 The DROP SOLO 22mm RDA by Digiflavor and The Vapor Chronicles is the follow-up successor to the wildly successful DROP RDA, featuring a smaller 22mm frame with a unique single coil deck with horizontal multi-airslots side airflow control. The DROP SOLO RDA implements a smaller form factor, catering for single-coil flavor chasers with two optional frame structure - Stainless Steel and PMMA Low Profile Cap. The build deck implements a two-post, single terminal per post with a notch design that allows from trimming of coil leads. With the metal frame that caters more towards vapor-production, the DROP SOLO integrates 10 small side-holes that are intuitively adjusted via twisting the top cap for a stepped airflow design. The PMMA transparent cap offers a reduced atomizer chamber and lower profile, catering towards flavor-focused performance. Each kit includes various functional accessories, such as 24mm stylish ring, Squonk BF 510 Pin, and a set of prebuilt coils.
Quick Links:
E-Liquids
Vape Wires
Digiflavor x TVCreation DROP SOLO BF RDA Features:

Collaboration by Digiflavor & The Vapor Chronicles
A TVCreation Project
22mm Diameter
24mm Optional Beautiful Ring
5mm Deep Juice Well
Superior Stainless Steel Construction
Optional PMMA Low Profile Cap
Two Post, Singler Terminal Per Post Build Deck
Large Terminal Openings - Side Secured via Slotted Screws
Single Coil Configurations
Horizontal Stepped Airflow Control - 10 Small Airslots
Airflow Channels Adjusted Vertically via Twisting Top Cap
Conical Top Cap Design - Flavor Enhancement
Squonk-Ready 510 Bottom-Feeding Pin
Gold-Plated 510 Connection
Available in Stainless Steel, Black, Gold
Includes:
1 DROP SOLO RDA
1 PMMA Top Cap
1 PMMA Mid Cap
1 Squonk BF 510 Pin
1 510 Drip Tip Adapter
2 0.35ohm Prebuilt Coils
1 Allen Key
1 Spare Parts Bag
1 Instructional Manual
__________________________________________
Ready Stocks
Shipping everyday except for Sunday and Public Holidays. Usually reach in 1-5 working days depends location.
Items are all READY STOCK.