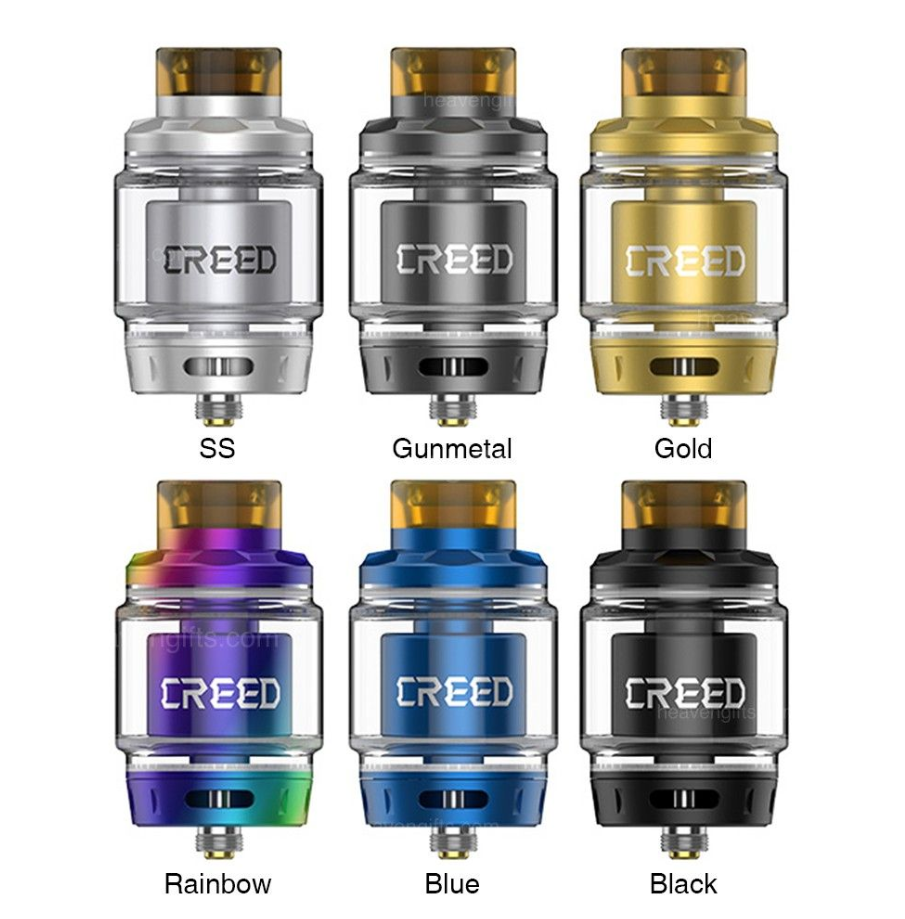 The Geek Vape Creed 25mm RTA is a revolutionary design in the rebuildable tanks sector, integrating an interchangeable airflow system, spacious two-post build deck, and an impressive 6.5mL maximum juice capacity. The GeekVape Creed RTA is fashioned from superior stainless steel and has a dynamic airflow system, allowing users to change the three different types of inner airflow chambers to match the preferred vaping style. External airflow enters the structure through three external airslots, fully adjustable by the AFC ring to deliver intense flavor and dense clouds. The spacious build deck hosts a two-post design, implementing large terminal openings to accommodate a plethora of coil leads. The convenient top-fill method is accessed by unscrewing the threaded top cap to reveal a large fill port, featuring a 4.5mL juice capacity that can be increased to a whopping 6.5mL of eLiquids with the bulb glass.
Geek Vape Creed 25mm RTA Features:

25mm Diameter
4.5mL Standard Juice Capacity
6.5mL Maximum Juice Capacity
Superior Stainless Steel Construction
Spacious Build Deck
Two-Post - Single Terminal Per Post Design
Top-Secured via Slotted Flathead Screws
Large Terminals For Easy Coil Lead Placement
Single or Dual Coil Configuration
PEEK Insulator
Three Interchangeable Internal Airflow Options
Three External Airslots - Adjustable AFC Ring
18mm 810 ULTEM Widebore Drip Tip
510 Delrin Widebore Drip Tip
510 Drip Tip Adapter
Gold-Plated 510 Connection
Available in Silver, Gunmetal, Gold, Rainbow, Blue, Black
Includes:

1 Creed RTA
3 Internal Airflow Chambers
1 Spare Glass Tube
1 Allen Key
1 510 Drip Tip
1 810 Drip Tip
1 Spare Parts Pack
1 User Manual
__________________________________________
Ready Stocks
Shipping everyday except for Sunday and Public Holidays. Usually reach in 1-5 working days depends location.
Items are all READY STOCK.