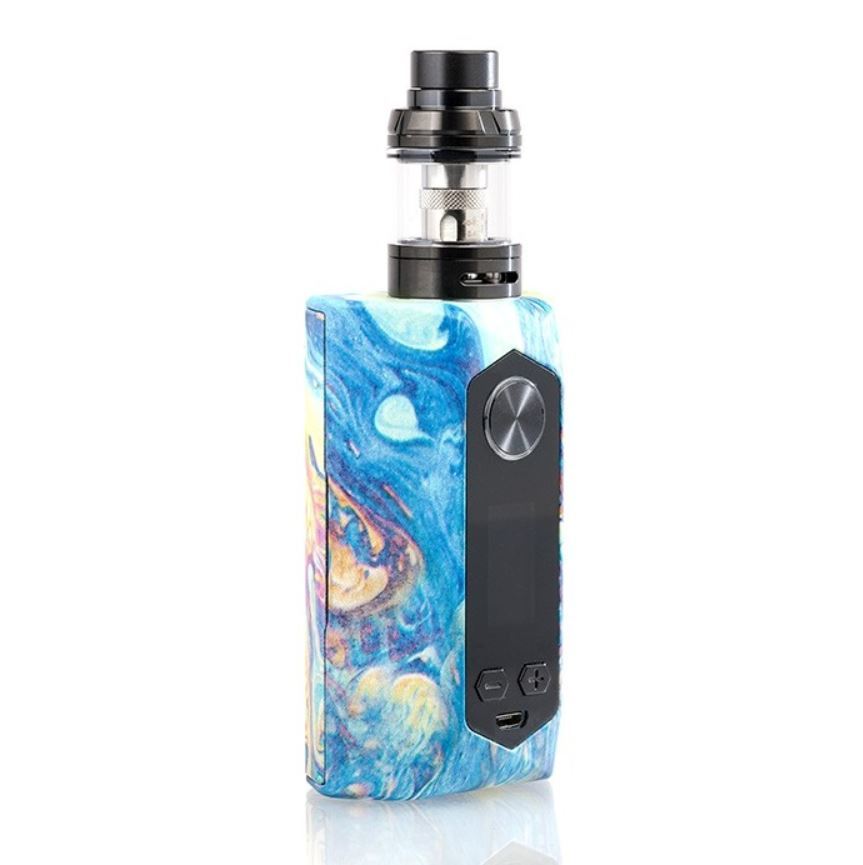 GeekVape Blade 235w TC Box Mod Kit
The Geek Vape Blade 235W TC Starter Kit emulates the latest output achievement from GeekVape, delivering a beautiful, lightweight device with the new AS Chipset to pair with the new Aero Sub-Ohm Tank. The Blade 235W TC Box Mod implements a visually striking body conforms for ergonomic handling with a soft curvature contour. The chassis is quite versatile, capable of accommodating dual 20700 and 21700 batteries with the option of 18650 batteries when used with the included adapter (batteries sold separately). The AS Chipset is highly intelligent, providing a maximum wattage output of 235W and several advanced modes such as Power Wattage, VPC, TC-TCR, and BYPASS Mode. Included within each kit is the Aero Sub-Ohm Tank, a 25mm atomizer with a maximum juice capacity of 4 milliliters, convenient threaded top-fill design, and the utilization of the IM Coil System.

Quick Links:
Geek Vape IM & Aero Mesh Replacement Coils

Geek Vape Blade 235W TC Box Mod Features:

Dimensions: 93mm by 52mm by 38.5mm
Dual High-Amp 18650, 20700, or 21700 Battery - Not Included
Intelligent AS Chipset
Wattage Output Range: 5-235W
Temperature Control Range: 200-600F
Minimum Atomizer Resistance: 0.05ohm
Support Nickel, Titanium, and Stainless Steel Heating Elements
VPC Mode - Power Curve Adjustments
BYPASS Mode
Durable PPS, Fiberglass, and Stainless Steel Construction
Intuitive 0.91" OLED Color Display
Oversized Firing Button
Hexagon Adjustment Buttons
Magnetized Battery Door Cover
Reverse Polarity Protection
Short Circuit Protection
Low Voltage Protection
Overheat Protection
MicroUSB Port
Spring-Loaded Gold-Plated 510 Connection
Available Colors - Starry Night, Poppy
Geek Vape Aero Sub-Ohm Tank Features:

25mm Diameter
4mL Juice Capacity
Superior Stainless Steel Construction
Pyrex Glass Reinforcement
Performance Illusion IM Coil Series
0.4ohm iM1 Single Coil - rated for 40-70W
0.15ohm iM4 Quadruple Coil - rated for 50-120
Dual Slotted Bottom Airflow Control
Convenient Threaded Top-Fill Method
Delrin Widebore Drip Tip
Gold-Plated 510 Connection
Includes:

1 Geek Vape Blade 235W Mod
1 Aero Sub-Ohm Tank
1 0.4ohm iM1 Single Coil
1 0.15ohm iM4 Quad Coil
1 18650 Battery Adapter
1 Spare Glass Tube
1 MicroUSB Cable
Spare Parts Pack
Instructional Manual
Please have a great understanding and technical knowledge on how to use this product in order to properly use it.

In order to use temperature control feature, it requires use of nickel, titanium, or stainless steel coils.

Note: There is always an inherent risk when using any rechargeable batteries at anytime and under any circumstances. ElementVape.com and any of ElementVape.com's parent and subsidiary companies are not held responsible for any damage for any modification of the batteries, chargers, devices and other products that we carry in any form or shape, this is including pack making.

ElementVape.com and any or all of ElementVape.com's parent and subsidiary companies will not be held responsible or liable for any injury, damage, or defect, permanent or temporary that may be caused by the improper use of a Li-ion (Lithium-ion), LiPo (Lithium-ion Polymer) and any rechargeable battery/batteries as well as chargers. Please have a greater understanding of the batteries/chargers you are using and how to care for them properly.

When working with Li-ion (Lithium-ion), LiPo (Lithium-ion Polymer) and any rechargeable cells, please be cautious and carefully use as they are very sensitive to charging characteristics and may explode or burn if mishandled. Please make sure that you have great knowledge on all rechargeable batteries before you use them. Always charge batteries at the clean and fire-proof surface. Never leave charging batteries unattended. If you see that there are visible damages on the batteries, please do not use. Always keep, store and transport the rechargeable cells in a safe, non-conductive container in controlled environment

Do not use any rechargeable battery as well as any battery charger if any visible damage is present, as well as if the cell or charger has been stressed through mishandling, accidental or otherwise, even if damage may not be visible. Always store and transport rechargeable cells in a safe, non-conductive container in a controlled environment. Please dispose battery cells, chargers or any other electronic devices in accordance of local laws and mandates.
__________________________________________
Ready Stocks
Shipping everyday except for Sunday and Public Holidays. Usually reach in 1-5 working days depends location.
Items are all READY STOCK.