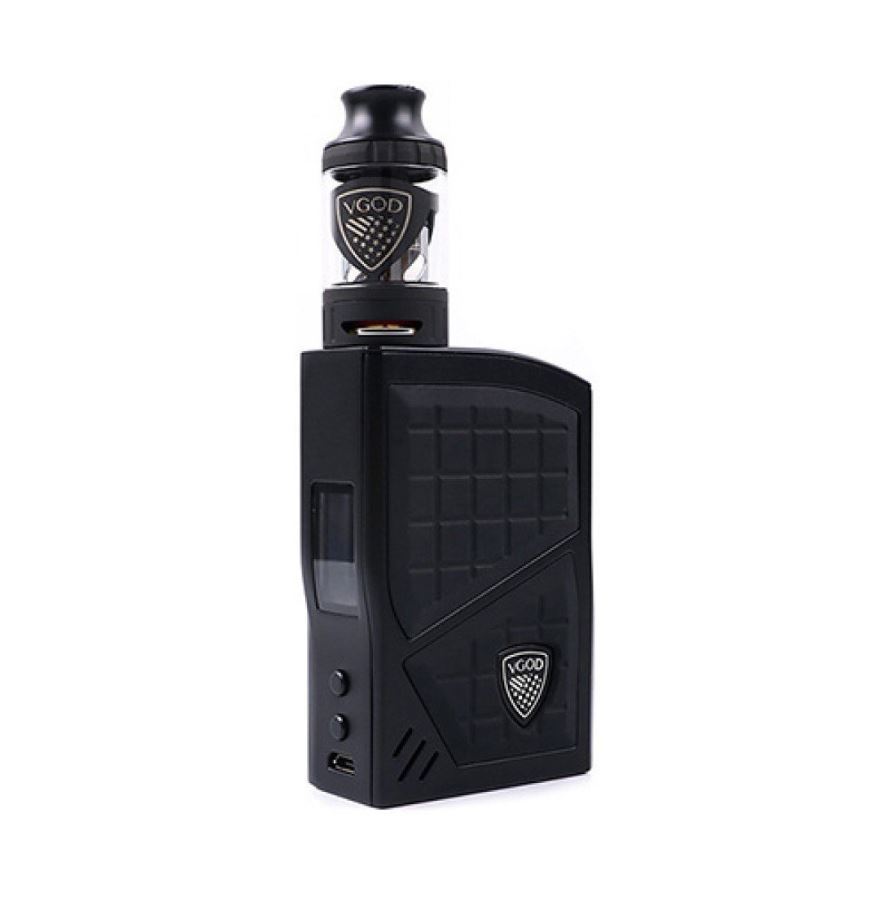 VGOD Pro 200w Box Mod Kit
The VGOD Pro 200 Starter Kit is designed for advanced users looking for heavy customizability, featuring an intelligently designed structure with the proprietary ATOM.V.200B chipset, and slew of temperature control options. The VGOD Pro 200 Kit is fashioned from durable zinc alloy, stainless steel, and rubberized grips, finished in matte black. The proprietary ATOM.V.200B chipset unlocks a full suite of temperature control options, accepting Ni200, Ti, or Stainless Steel options. In addition, the chipset accesses the Power Curve Mode, an exceptional way to dial in the output power for further fine tuning. Furthermore, a side mounted 0.96" OLED, relays important usage data back to the user such as, output temperatures or wattages, and pointing out malfunctions and safety warnings.
VGOD Pro 200 Starter Kit Features:

Dimensions - 85mm by 57.5mm by 25mm
Dual High-Amp 18650 Batteries - Not Included
ATOM.V.200B Chipset
Wattage Output Range: 7-200W
Voltage Output Range: 4.2V
Coil Resistance: 0.2ohm - Rated 30-100W, Best At 60W
Temperature Control Range: 100°C-315°C/200°F-600°F
Atomizer Resistance Range: 0.08-3.0ohm
MECH Mode
Power Curve Mode
Memory Mode - 20 Stored Memories
TCR Mode
Ni200, Titanium, SS316/304 Stainless Steel Compatibility
.98 inch Side Mounted Colored OLED Screen
Slide-On Battery Bay
Oversized Firing Button
Ergonomic Textured Grips - Comfortably Prevents Slips and Drops
Atomizer Short Protection
System Overheating Protection
Short-Circuit Protection
Voltage Spike Protection
Vaping Time Limit Protection
Designed in California
MicroUSB Charging and Update
24K Gold-Plated Spring-Loaded 510 Threading and Firing Pin
Available in Black

VGOD Pro 24mm SubTank Features:

24mm Diameter
3mL Juice Capacity
Superior Stainless Steel Construction
Pyrex Glass Reinforcement
0.2ohm Shotgun Coil - Rated for 30-100W
Hinged Swivel Top Fill Design
Dual Bottom Airflow Control
Detachable Structure
510 Connection
Please have a great understanding and technical knowledge on how to use this product in order to properly use it.

We highly recommend using an external battery charger for 18650 battery mods, as it helps with balanced charging and prolongs the life of the battery and mod, such as from worn out microUSB port. Never use damaged or improperly wrapped batteries with this device. We recommend all 18650/20700/21700 battery mods to use matching batteries with similar brand, model, and battery state at all times.

In order to use temperature control feature, it requires use of nickel, titanium, or stainless steel coils.

Note: There is always an inherent risk when using any rechargeable batteries at any time and under any circumstances. ElementVape.com and any of ElementVape.com's parent and subsidiary companies are not held responsible for any damage for any modification of the batteries, chargers, devices and other products that we carry in any form or shape, this is including pack making.

ElementVape.com and any or all of ElementVape.com's parent and subsidiary companies will not be held responsible or liable for any injury, damage, or defect, permanent or temporary that may be caused by the improper use of a Li-ion (Lithium-ion), LiPo (Lithium-ion Polymer) and any rechargeable battery/batteries as well as chargers. Please have a greater understanding of the batteries/chargers you are using and how to care for them properly.

When working with Li-ion (Lithium-ion), LiPo (Lithium-ion Polymer) and any rechargeable cells, please be cautious and carefully use as they are very sensitive to charging characteristics and may explode or burn if mishandled. Please make sure that you have great knowledge on all rechargeable batteries before you use them. Always charge batteries at the clean and fire-proof surface. Never leave charging batteries unattended. If you see that there are visible damages on the batteries, please do not use. Always keep, store and transport the rechargeable cells in a safe, non-conductive container in a controlled environment

Do not use any rechargeable battery as well as any battery charger if any visible damage is present, as well as if the cell or charger has been stressed through mishandling, accidental or otherwise, even if damage may not be visible. Always store and transport rechargeable cells in a safe, non-conductive container in a controlled environment. Please dispose of battery cells, chargers or any other electronic devices in accordance with local laws and mandates.
__________________________________________
Ready Stocks
Shipping everyday except for Sunday and Public Holidays. Usually reach in 1-5 working days depends location.
Items are all READY STOCK.